ABOUT US
Networking
Rakoma Transport and Logistics
Rakoma Transport and Logistics (RTL) is a subsidiary of the Rakoma Group, A diversified fully capacitated professional services group established 15 years ago. Over the years, as opportunities emerged in the market, RTL was established in 2018. RTL offers the following services: same day service, retail distribution and warehousing nationwide. Founded by a growing need in the economy, we seamlessly transport consignments at efficient rates. We operate from our Head Office at Monte Circle, in Fourways, Sandton. We are proximate to the N1 motorway, which is a key connection point in the Johannesburg commercial hub.
Mission
Our mission is to be among the leading companies that contributes the most value to customer supply chain requirements within the South African logistics industry. We are driven to achieve this by implementing smart, sustainable and cost-effective solutions with a strong focus on quality.
Vision
Our vision is to build a world-class logistics company that sets the benchmark of the transport and logistics industry. We strive to create an environment whereby all stakeholders maximise the benefit they receive from associating with our brand.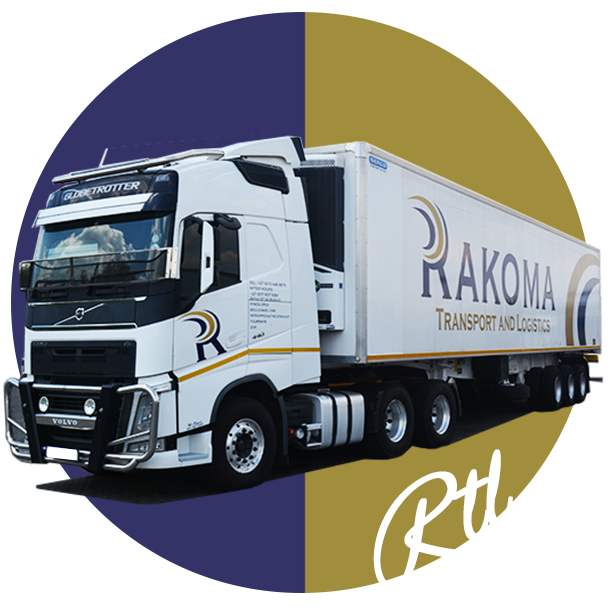 +40
CLIENTS
+15,000
NUMBER OF DELIVERIES
+4
YEARS IN BUSINESS
100%
CUSTOMER SATISFACTION
WHAT CLIENTS SAY?
"Rakoma Transport and Logistics is very reliable and respect their clients time."
– KELLY MURRY
ACME Inc.
"The Rakoma Drivers are very humble and always on time."
– JEREMY LARSON
ACME Inc.
"For reliable and always on time deliveries, Rakoma and Transport take the trophy."
– ERIC HART
ACME Inc.